MEXICAN VANILLA EXTRACT SINGLE-FOLD 1X
Mexican Vanilla Extract Single-fold. The best vanilla extracts use higher-cost premium quality beans with high vanillin content and minimal additives. They should lift and brighten the foods you cook or bake., and add sparkle to beverages. Made with authentic vanilla pods, water, and 35% vol. alcohol. Pure vanilla extract in its entirety, food without preservatives, artificial flavorings, sweeteners, or coumarin.
Vanilla Extract Single-Fold 2X
3.3 fl. oz / 100 ml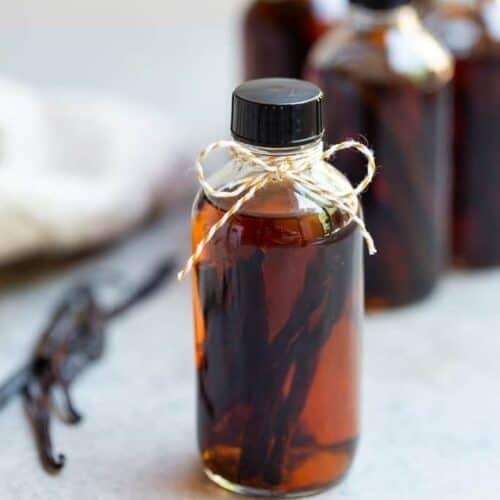 50ml Glass Bottle with 3.3 fl. oz / Box with 10 bottles
13.35-ounce vanilla bean grade extract per gallon | 75 Vanilla beans
Fold (Strength): Single-Fold 1X
35% vol. ethyl alcohol
Product Style: Liquid
Qualities: All Natural, Gluten-Free, Non-GMO
Ingredients: Mexican vanilla bean extractives, water, and 35% vol. ethyl alcohol
Shelf Life: 10 Years
Handling / Storage: Store in a cool, dry place
Notes: This product does not contain any artificial colors, flavors, preservatives, emulsifiers, carriers, antioxidants, ethyl vanillin, or coumarin
Origin: Mexico
Wholesale available: For wholesale inquiries please contact us
The best quality vanilla extracts come with a price
The simple answer for what is the best vanilla extract often boils down to price. Good vanilla is not cheap. And because it is so pricey (it's the world's most labor-intensive crop), customers are often put off by sticker shock.
Our extract is made with vanilla beans grown in Mexico and contains 35% alcohol, as required by the FDA. Our extract contains no sugar, corn syrup, caramel coloring, or other additives.
Premium pure vanilla extract is a complex flavor, comprised of approximately 300 individual flavor components all working together to create its rich flavor and aroma. To produce premium pure vanilla extract always begins with the beans. The Mexican vanilla beans we use to take longer to grow and cost twice as much as lesser-quality beans. However, they produce the most wonderful vanilla imaginable.
The superior-grade vanilla beans are then sorted and carefully inspected for consistency. Once the perfect vanilla beans have been selected, a proprietary cold extraction process is used to create our wonderful extract. We do not use damaging heat or pressure to produce our vanillas, thus ensuring a rich deep flavor and delicate bouquet. The end result is premium vanilla extract unmatched in our industry.
What does "fold" mean on vanilla extract bottles?
A "fold" is the FDA's regulated measurement of potency for vanilla extracts. In order to be a pure "single-fold" vanilla extract, each gallon of the finished extract must have been made with a minimum of 13.35 ounces of vanilla beans.
Pure vanilla extracts sold to consumers are almost always single fold, which is plenty strong for most home recipes. If a recipe simply calls for "vanilla extract" without specifying a fold strength (as most do) it's safe to assume single-fold extract is the ingredient they are referring to double, triple, and four-fold extracts are available, each representing a multiplication of the 13.35 ounce per gallon amount.
Thus, a double-fold extract was made with 26.7 ounces of vanilla per gallon, a triple-fold with 40.5 ounces per gallon, etc. Generally, double-fold & higher potency extracts are only sold to bakeries and other food companies that make very large batches of food and don't want to use or store correspondingly large amounts of single-fold extract.
Legal Disclaimer
Important Notice
Disclaimer: While we work to ensure that product information is correct, on occasion manufacturers may alter their ingredient lists. Actual product packaging and materials may contain more and different information than what is shown on our website. We recommend that you do not rely solely on the information presented and that you always read labels, warnings, and directions before using or consuming a product. Please see our full disclaimer below. The information provided for this product is for educational purposes only. This information has not been evaluated by the Food and Drug Administration and is not intended to diagnose, treat, cure, or prevent any disease. We recommend that you consult with your physician or qualified healthcare practitioner before making any significant changes in your diet. This site assumes no liability for inaccuracies or misstatements about products.